Last month the Resto Shack team were very proud to have been invited to visit the Devilbiss factory, to have a look at the current gun range and to see the ins and outs of how some of our favourite guns are made. I have been using Devilbiss guns since my first days in the trade and they have been part of some of the best cars that I have sprayed here at Resto Shack.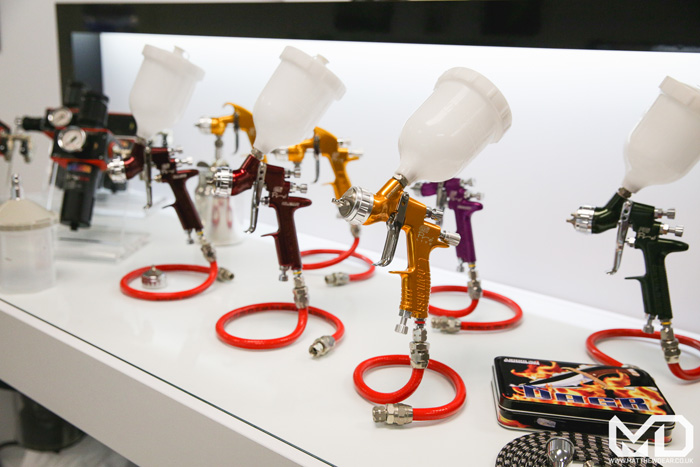 Devilbiss was founded in the late 1880's in Teledo, Ohio by a Dr. Allen DeVilbiss after he invented the first atomizer for health care. Later Thomas DeVilbiss adapted the design and created the first spray gun to be used in the fast growing mass production market.
Devilbiss have continued to stay at the forefront of the spray gun market with new designs and innovations to spray equipment over the decades. Their engineers use the same development systems as NASCAR and NASA and have state of the art manufacturing machinery.
We are some what spray gun geeks at Resto Shack, so being asked to the factory was understandably exciting and the team could not wait for the work day out to the Devilbiss HQ.
So we took a little busman's holiday and had a day away from the shop to sunny Bournemouth. Welcomed by Tarek for Devilbiss we were shown around the product line and learned a bit about the history of Devilbiss.
The tour of the factory covered all of the manufacturing procedures, assembly, quality control, all the way to the finished product. Which started to give us the itch for a new gun for the next car in the workshop.
We even managed to talk out way into the R&d Department and although we didn't see any new products a few hints were dropped, which was exciting. The guys and girls in there must have loads of fun, it was like playing in the bat cave… full off gadgets!
All in all it was a great team day out. We left with a new-found respect for the company whose guns have helped us paint some of our best car, but it didn't end there. The next day Vince from devilbiss turned up at the shop… but that's for another time.
Here are a few more shots from the day. Thanks again to Matt Dear for the great photos.